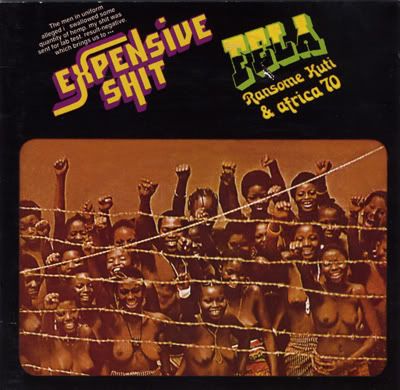 One thing you'll notice each Tuesday is that Kuti generally kept his band name pretty long, and had a lot of fun changing one thing or another to reflect changes in the lineup. One constant of his Africa 70 band was Tony Allen, who I previously spotlighted with a remix LP of a more recent album. Allen handes much of the drumming here and coordinates most of the rhythm section, and really he's just fantastic. As far as Kuti goes, he produces and arranges most of the music as well as writes and sings the lyrics. The band is much bigger than either of them though, and you've really got to admire the intense and tight playing by everyone involved. This cover is a great introduction to Kuti's work, depicting at once the sadness of his countrymen and women's lives and the positive attitude with which they combat it. The A side of this LP is Fela's recounting of a hilarious story involving marijuana, a highly illegal item in Nigeria. Kuti's music led revolutions, and because of this the police were always trying to bring him in. The story goes that they planted a marijuana joint on him for an excuse to throw him in jail, but he managed to eat the joint and was forced to wait until he pooped it out so the police could have their evidence. However, he was able to get ahold of another inmate's feces and was able to use that to escape. Presumably he was pretty stoned while this was going on. The flip-side, "Water No Get Enemy", is more about country politics as it discusses the conflicts that rise from too many people and not enough water. This particular track is sampled by Mike Love for both "Roc Boys" and "Blue Magic" on the Nigerian Gangster mixtape we kicked this Fela thing off with, so you should get a nice dose of it by the end of your Kuti sessions this week.
| | | | |
| --- | --- | --- | --- |
| A | Expensive Shit | | 13:13 |
| B | Water No Get Enemy | | 11:00 |
See you next Tuesday with more Fela goodness!
Download
Purchase
(Note: Many of his LPs are no longer available for purchase in their original format or tracklisting, but I'll try my best to upload the originals.)