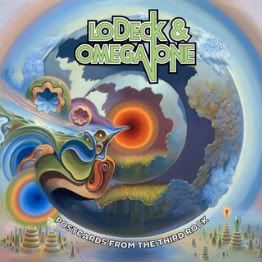 The collaboration between indie producer Omega One
and underground microphone maestr
o LoDeck is one of those smoldering aural events that features deep rooted jazz beats, crustified chunks of funk, and esoteric wordplay that will leave your head spinning.

Postcards from the Third Rock
is intelligent Jeep music for the discerning rap fanatic tired of quick hits and rote gangsta verite. This is the kind of album that transcends the late night, blurry eyed headphone session mentality and delivers more than 600 bars of abstract verbal heat wrapped in Teflon coated deep groove; it makes you actually hear the music as each successive listen will unveil new meaning to the words and uncover additional layers of sound.

LoDeck and Omega One seem more concerned with moving the art form forward rather than just lounging on the status quo bandwagon, which is just how rap should be.

DISC 1:

Postcards From The Third Rock
No Rims
On A Path
A Day In The Triangle

Other Worlds (Interlude)
Wipe Out Zone
Nice Kids (featuring Marq Spekt/Karniege/C-Rayz Walz/Invizzibl Men)
Understand U
New York (Interlude)
Shrimp
Still Cambodia (featuring Jak Progresso)
Maui
The Safari
Titanium (featuring Marq Spekt/Karniege/Invizzibl Men)
Postcards From The Third Rock (Remix)
Disc 2 is all instrumentals.
Download
Amazon